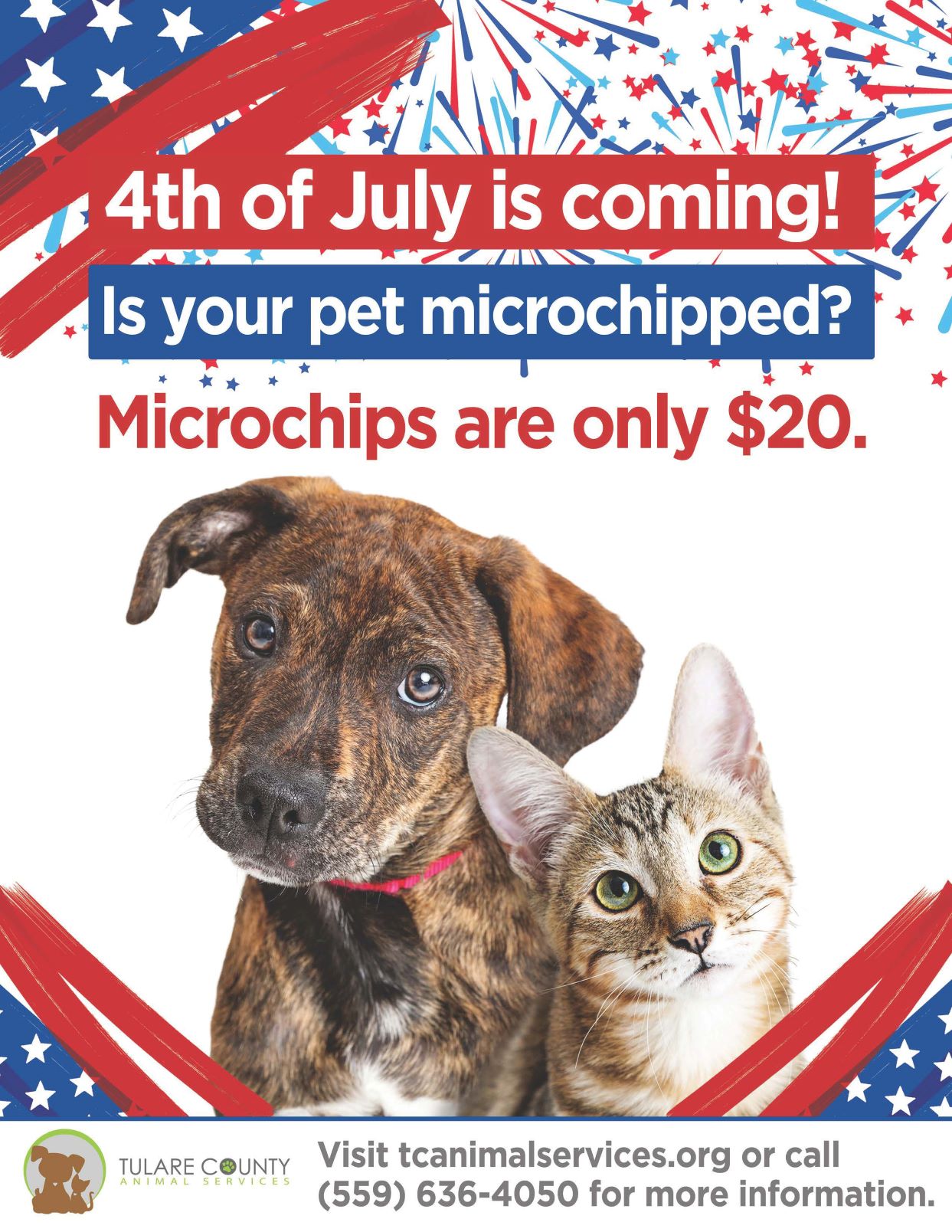 Both dogs and cats can react violently to loud noises, especially when they are left alone or in an unfamiliar environment. There have been stories of pets breaking through glass windows, jumping over fences, and ending up miles away from home during Fourth of July week. Here are some tips to help you and your pet enjoy July 4th safely:
Keep Your Pets Indoors: Even if your pet is used to being outside, with noises as terrifying as fireworks, your pet may break through your fence or chew through his leash. Always keep your pet in a room without large windows or objects that he could break or knock over.

Be sure your pet has ID: If your pet does manage to escape, having an ID tag or microchip is the best way to get him home safely. Be sure the collar your dog or cat has is secure and the information on his or her tags is updated. Also, having a current picture is always a good idea.

Leave something to distract your pet: If you can't be home with your pup, leave the TV on or music at a high volume in an attempt to drown out the noise of fireworks going off. Toys, treats, and food are great distractions when combined with music and television. Don't forget to check the volume and make sure it's not too loud!

Give your pet a safe place to hide: If your dog is crate trained, leave the crate accessible to them. Put it as close to the TV or music as possible without the volume being too loud. Leave blankets inside of it and over the top of it to make it feel more secure, this can also help block the lights from outside as well. If you have a cat, an open box where they can easily hide can help immensely.

Try alternative methods: If you know your pet does not do well during fireworks, try talking to your vet to see what is recommended. Thundershirts or anti-anxiety vests are very popular for dogs who panic, and may be helpful to both you and your dog. Your vet may also recommend melatonin, Feliway, DAP, or other pet-safe medicine to help relax your dog. Remember to always follow your vet's instructions and do not give your dog any medication that is not approved by your vet.

Spend time with your pet: Sometimes the best remedy for a scared or stressed pet is their owner. If you can, check on them frequently throughout the fireworks or stay with them the entire time but remember to never take your pet to a fireworks show or other Fourth of July party. The safest place for your pet is at home.
Follow these tips to help your pets have a safe, stress-free Fourth of July!
If your pet goes missing over 4th of July, please visit our Lost and Found Animals section.
If you would like to get your pet microchipped for $20 please call Animal Services at (559) 636-4050 x 0 to schedule an appointment.